---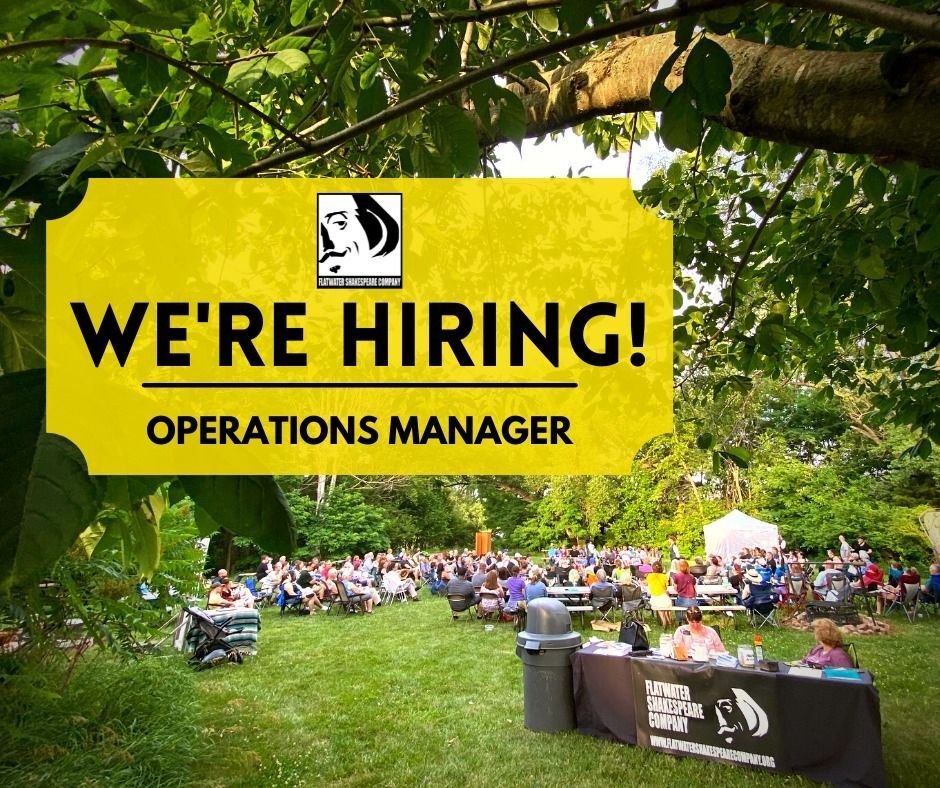 NOW HIRING!!!

FLATWATER SHAKESPEARE COMPANY SEEKS AN OPERATIONS MANAGER

The Operations Manager will be responsible for office management, handling the box office, assisting the Executive Artistic Director with financial coordination, and managing social media accounts and blog maintenance. Knowledge of non-profit operations is required. Must have excellent financial skills, planning and organizational skills, basic accounting and budgeting understanding.

Essential Job Functions
Accounting:
• Assist with the development of the budget
• Code all expense and income items based on the budget & grants and email weekly (or as needed) to the accountant
• Monitor accurate coding based on grant requirements
• Coordinate the development of proposals and assist in grant writing
• Assist with Case Statement activities for corporate requests
• Manage all insurance payments and reports.
• Check 1099's from accountant for accuracy
• Prepare and submit 990 by due date
Governance:
• Attend board meetings, present & coordinate regular reports to the board
Programming:
• Coordinate mailings related to productions and fundraising –develop and update physical and e- mailing lists, coordinate printing of postcards, collating and sending materials
• Coordinate box office activities – get cash, make deposits, identify volunteers, set up systems, purchase concessions, manage square
• Monitor & ticket sales and attendance
• Track donor info
• Pick up the mail from the PO box regularly and process it
• Make phone calls and handle inquiries
Desired Education and Experience
• Associate degree or higher in management or related field. Equivalent experience may be considered.
• 2-3 years of experience with nonprofit organization
Knowledge, Skills and Abilities Preferred
• Savvy with technology and a variety of platforms to increase accessibility to virtual programming
• Applicant must have their own computer and reliable internet access
• Reliable transportation; if the applicant lives outside of Lincoln, they must be willing to travel to Lincoln as needed.

Disclaimer: The statements contained in this job description are intended to describe the general nature and level of work being performed by employees and are not to be construed as an exhaustive list of tasks.

Additional information: Questions may be addressed to Executive Artistic Director Marshall Carby at the email address below. Apply: Please send application materials (CV and cover letter, with three professional references) to Executive Artistic Director Marshall Carby: marshall.flatwatershakespeare@gmail.com 
See less
Featured Stories
Art is rooted within our community and grows within you. Check out our upcoming events and programs.
Read more.

The good word on Flatwater Shakespeare.
Curated by our Resident Scholar, Dr. Stephen Buhler.
Read more.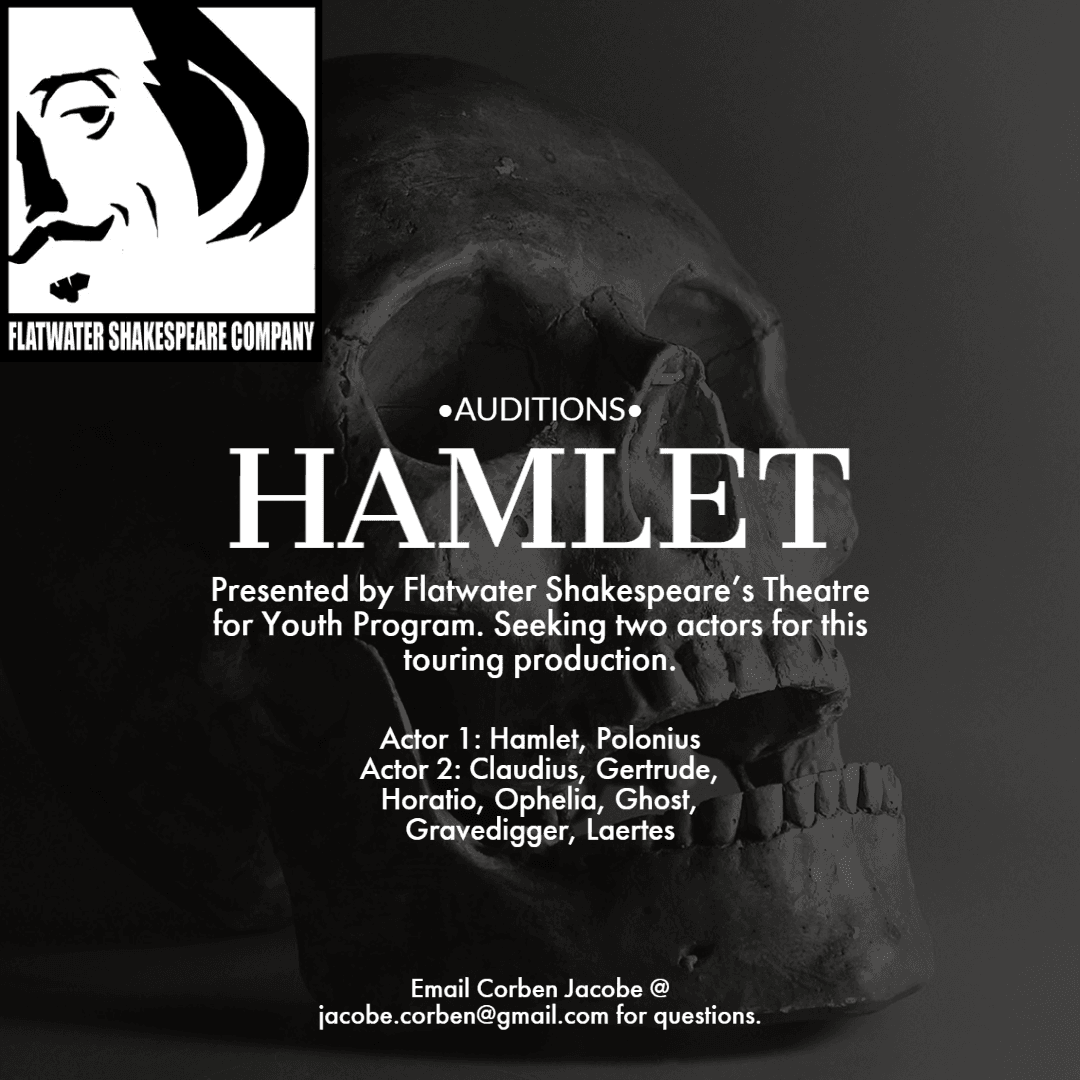 AUDITION NOTICE!!!
Flatwater Shakespeare is holding auditions for a touring production in its Theatre for Youth Program.
Audition Information:
-Location: 211 N 14th Street, Second Floor, Narnia Room
-Date and Time: January 30th and 31st, 7:00 PM - 9:00 PM
-Instructions: Please prepare a short (1-3 minute) monologue from a Shakespearean work or other heightened language play. Email Corben Jacobe at jacobe.corben@gmail.com to schedule a 5-minute audition slot.
Production Information:
-Rehearsals: February 9th - March 15th, Weekdays starting at 6:30 PM
-Tour Dates: March 23rd, 24th, 30th, and 31st
-Additional Performances: This play will be performed during a Lincoln Public Schools arts events the week of March 13th, performance date TBD
Additional Information
-This is a touring production. All performances will take place at a public school during the school day. Transportation to tour sites provided
-Each actor will play multiple characters. Though the characters' pronouns will not change in the script, casting will be gender-blind.
-Each performance may be followed by a short talkback.
We hope to see you there!!!
Excellent live acting just a few feet away from you!

An amazing gem in Lincoln!

You must encounter Shakespeare up close and personal – love the intimate courtyard experience – Excellent!