Flatwater Shakespeare Company presents . . .
William Shakespeare's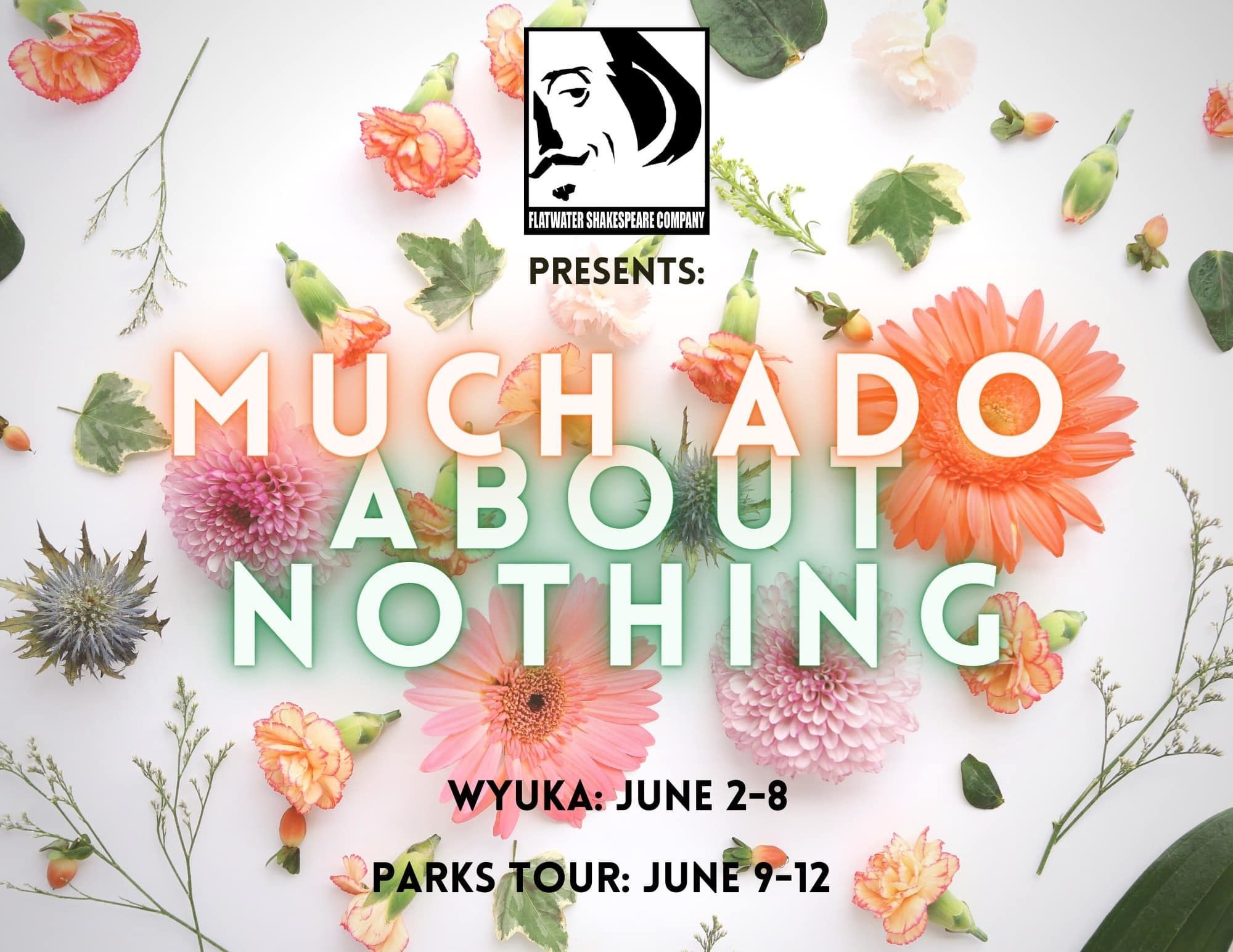 "In time the savage bull doth bear the yoke."

- Don Pedro, Act 1 Scene 1
Much Ado About Nothing is a comedy written by William Shakespeare that tells a humorous tale of true love and deception. Young love birds Count Claudio and Hero (the daughter of Leonato, the governor of Messina) fall in love and pledge to marry one another. While they wait to officially tie the knot, the couple decides to have some fun by trying to trick Beatrice (Hero's cousin) and Benedick (a soldier that has returned to Messina from a successful battle alongside Claudio and his fellow soldier, Don Pedro) into marrying one another. Along the way, Don John (the illegitimate brother of Don Pedro) becomes jealous and attempts to trick Claudio into thinking that Hero does not truly love him.
Join us for a fun night out at The Swan Theatre at Wyuka Stables and/or at a local park! The dates, times, and locations for the Much Ado About Nothing production are below.
The Swan Theatre at Wyuka Stables (3600 O Street, Lincoln, NE 68503)
Thursday, June 2, 2022 | 7 p.m. CST
Friday, June 3, 2022 | 7 p.m. CST
Sunday, June 5, 2022 | 7 p.m. CST
Wednesday, June 8, 2022 | 7 p.m. CST 
Trago Park (N 22nd St. & U St, Lincoln, NE 68503)
Thursday, June 9, 2022 | 7 p.m. CST 
Cooper Park (S 6th Street & D Street, Lincoln, NE 68508)
Friday, June 10, 2022 | 7 p.m. CST 
Havelock Park (N. 64th Street & Ballard Ave, Lincoln, NE 68507)
Saturday, June 11, 2022 | 7 p.m. CST 
James Arthur Vineyards (2001 W. Raymond Rd, Raymond, NE 68428)
Sunday, June 12, 2022 | 7 p.m. CST 
Get your tickets for Much Ado About Nothing today!
---
Featured Stories
Art is rooted within our community and grows within you. Check out our upcoming events and programs.
Read more.

The good word on Flatwater Shakespeare.
Curated by our Resident Scholar, Dr. Stephen Buhler.
Read more.
Excellent live acting just a few feet away from you!

An amazing gem in Lincoln!

You must encounter Shakespeare up close and personal – love the intimate courtyard experience – Excellent!