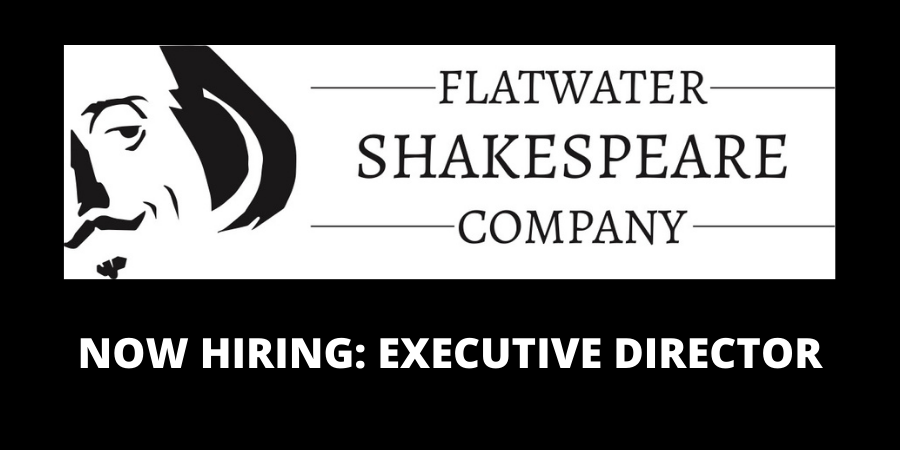 Job Opportunity: Executive Director, Flatwater Shakespeare Company 
About Flatwater Shakespeare Company: 
FSC is a private, professional theatre company in Lincoln, NE that was formed in 2001 and incorporated in 2004. The company focuses on providing high quality productions of Shakespeare and other classic works as well as on a robust education program serving the community, primarily currently directed toward k-9 kids and senior adults. The company is a registered non-profit. Flatwater Shakespeare is maintained by a dedicated part time staff—including an Education Director, Operations Manager, an active Board of Directors, and volunteers. Productions are staged at various venues around Lincoln, including most recently the Swan Theatre at The Stables at Wyuka Cemetery in Lincoln, Lincoln public parks, and The Mill (Telegraph Location). For ten years, Flatwater has been offering free summer Shakespeare productions at Lincoln parks, and for five years, free "Little But Fierce" educational programming for children. All activities are supported through ticket sales, events, donations and grants.
Position Title: Executive Director 
Reports to: Flatwater Shakespeare Company Board of Directors 
Hours: Quarter-time to Third-time position; Year-round position
Supervises/coordinates with: Education Director; Operations Manager; technical, operations, and artistic staff. 
Compensation: $9,000-$18,000 annually, depending on experience and candidate specializations. There is not a benefits package. 
Job Summary
The Executive Director serves as the leader and is the "face" of Flatwater Shakespeare. The Executive Director must be committed to Flatwater Shakespeare's mission in bringing high-quality, inclusive educational and entertainment experience to Lincoln. The role requires fundraising and donor development and will include ample work writing grant applications, setting budgets, and reporting to the company's Board of Directors. 
This position is heavily administrative. If a well-prepared candidate states a strong interest and appropriate skills for also serving as the Artistic Director for the company, the candidate may be considered for the combined role of Executive Artistic Director. In the absence of such a candidate being chosen, the Executive Director would be involved in a later search for an Artistic Director. Compensation is dependent on the hired candidate's final role but will fall in the range described above. Candidates interested in the dual position should explain their applicable experience as an Artistic Director (or similar position) in their cover letter and address how they would balance the two parts of the job.
Essential Job Functions: 
Develop and implement a financial plan to ensure the continued stability and growth of the organization. Coordinate the development of the budget for the fiscal year 
Develop funding proposals and coordinate with the Operations Manager
Creating narratives and messaging materials for outreach, fundraising, and public relations
Play a key role in short and long-term strategic planning with a focus on continuing existing high-quality artistic productions and education and community outreach programs 
Continue developing existing collaborations with community partners and seek opportunities for new collaborations
Support a mission forwarding diversity and inclusion 
Provide a high level of visibility for Flatwater; meet with granting organizations, donors, and corporate funders; seek out funding opportunities and write and submit applications, collaborating with operations and other staff as needed
Provide regular reports to the Board of Directors and work with the board as needed 
Foster a safe and professional work environment for artistic, operations, and education program staff
Additional Functions of and Executive Artistic Director:
Develop the vision and strategic goals for the company as a whole; develop the artistic season and strategic plan for the theater program beyond the season's shows. 
Collaborate with the Education Director on overall vision; collaborate on impact of the theatrical program in the community and in league with the education program
Hire and manage guest directors and key production staff, oversee production budgets
Secure venues for productions; set audition schedules; manage and update contracts; monitor rehearsals; help build company culture
Desired Education, Experience, and Skills:
Experience and involvement with Shakespearean productions and/or theater arts organizations, preferably at least 3-5 years of experience, with experience in leadership roles
BA or higher degree (graduate degree preferred) in a field related to management, theater, arts, or education 
Ability to work with funders to gather financial support for the organization in professional settings; comfort in communicating and advocating for the company and its strategic goals
Knowledge of grant writing and/or experience administering and tracking grants
Understanding of budgeting and financial oversight
Experience with a nonprofit organization; strong understanding of nonprofit rules and regulations 
Experience managing staff and fruitfully collaborating with co-workers and staff; ability to promote an inclusive atmosphere and an operate with an understanding attitude as a leader
Excellent written and oral communication skills
Working Conditions: 
This is a one quarter to one third-time position, with flexible hours. Certain times of the year will be busier than others, depending on the production schedule and fundraising needs. Work will be remote; Flatwater Shakespeare does not have permanent office space. There will be required meetings, including meetings with potential funders and board and committee meetings. It is highly recommended for the candidate to live in Lincoln or be comfortable frequently commuting to Lincoln. 
Flatwater Shakespeare is committed to developing a diverse workforce and an inclusive culture. We encourage applications from all qualified and eligible individuals without regard to race, color, religion, gender, sexual orientation, gender identity or expression, age, national origin, marital status, citizenship, disability, veteran status and record of arrest or conviction, or any other characteristic protected by applicable law. 

To apply, please send a cover letter, CV or resume with contact information to Kelly Stage, Chair of the Board of Directors at kstage.flatwater@gmail.com (subject line: Application for Executive Director Position). Questions may also be sent to kstage.flatwater@gmail.com .
We are currently accepting applications on a rolling basis until the position is filled.